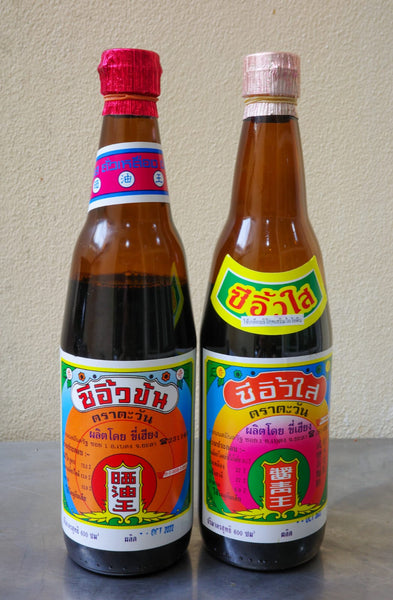 Premium Betong Soy Sauce Set
Naturally fermented soy sauce from Betong in Southern Thailand.
The people of Guandong have migrated to Betong, in Yala province for over 200 years.  We are honoured to share this premium soy sauce from a third generation maker. Tawan Brand of the Khe Hiang factory has been brewing soy sauce in the traditional style for 100 years.
Using grade A soy beans, filtered water and natural rock salt; both sauces are brewed for 6 months in giant pots, being exposed to sunlight and then covered at night or when it rains. A gentle but time consuming process that develops flavour. The dark soy sauce is fermented for a further 3 months as a mash with salt water for a richer flavour.
The light soy sauce can be used in all Thai and Chinese cooking, and the dark soy sauce for dipping sauces, braises and in the famous 'Betong' Soy Chicken, unique to the region. The natural flavour is to be cherished, as well as the craftmanship, history and wisdom in it's manufacture.
500ml light soy sauce and 500ml dark soy sauce gift set
Naturally brewed by 3rd generation family maker in Betong, Southern Thailand
Bottled and labelled at source
Sent in protective duo bubble wrap bags by next day delivery. UK only.